Home made healthiest and very powerful tea for maintain health and weight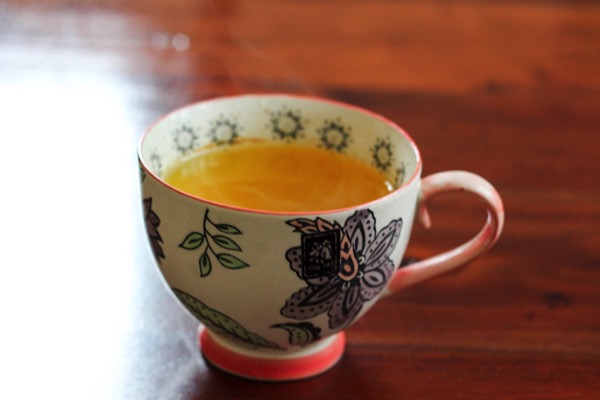 Green tea is very powerful tea consider for weight loss. BUT now i make it very healthiest with natural ingredients orange lemon and fresh turmeric.
Green tea

Orange slice

Fresh turmeric

slice

lemon slice
Method:
Pour some water in a saucepan.
Add green tea any brand and let the water come to a boil.
Once it comes to a boil, immediately turn off the heat and let it cool at room temperature. then add lemon orange and fresh turmeric slice and covered in a air tight mug for one hour .
After one hour Strain it before drinking.Then sip and enjoy the wonderful taste and amazing benefits.
Multiple researchers have found that the active components in turmeric makes it one of the best protectors against radiation-induced tumors.
Hot Tea is good for weight loss. It is a home remedy for sore throat too. This Tea is very commonly known as "Orange lemon turmeric Spiced Tea". Most of you might be using tea bags
The lemon you add to your tea will ensure a more acidic brew and therefore allow for more catechin molecules to be taken up in your intestines and to further your health benefits!
Make this healthy concoction daily and feel the difference!